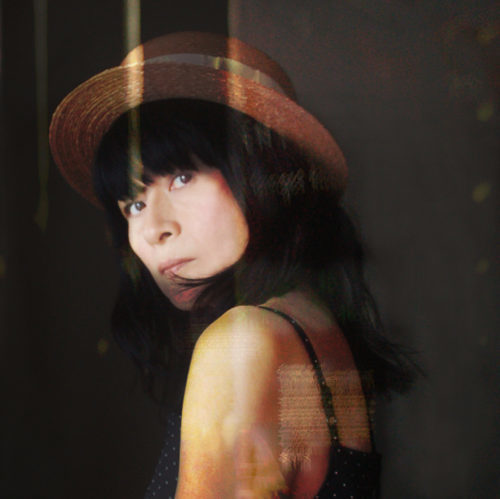 果乃子 / Kanoko
アーティスト / Artist
東京都在住 / Tokyo, Japan
Kanoko is a Tokyo-based artist working mainly in the fields of illustration. Her creative practice is taking inspirations from British culture, rock music, French cinema and Polish film that share a cynical worldview, music and a sense of melancholy. When she was a university student, she stayed in Oxford, England to study English. In there, she was really into British culture especially British rock music. She creates scenes that were inspired by the lyrics. She sets the theme music for her works.
She is always thinking about the human desire for relationship, especially about love. Why is love over? Nevertheless, why do people continue to love someone? She draws illustrations of various lovers who seem content at first glance, but the dark and smoky atmosphere in which are found reveals a difference in temperature between them, suggesting that their relationship will not go on forever.
It is difficult to recognize herself as a woman who receives pure love in Japan where Lolita culture and gender harassment are prevalent. The world of her creations reveals the woman's true identity and the power of love. The passion for creating completed by expressing herself. She continues to draw the person whom she loves.
Kanokoは、主にイラストレーションの分野で活動する東京在住のアーティストである。大学で経営学を学んだ後、イタリア古典絵画修復の技術を学ぶ。主に恋人達を描いたイラストで愛の衝動と矛盾を表現する。彼女は人と人との関係性、特に"愛"の衝動について考える。何故愛は永遠ではないのか?それでもなお、人が誰かを愛さずにはいられないのは何故か?この問いかけが彼女の創作の中心にある。英国文化、フランス映画、ポーランド映画、特に大学時代、語学を学んだ英国オックスフォードでの滞在時に傾倒したUKミュージックシーンから受けた影響が大きく 、各作品にテーマ音楽を設定し、シニカルでメランコリックな作風を特徴とする。隠された暗示的表現も得意とし、 どこか灰色な空気感で人々の危うい愛の関係性を表現する。ロリコン文化とジェンダーハラスメントが蔓延した日本で、女性として純粋な愛を受け止めることは難しい。彼女は、裏切られ、傷ついてもなお愛を諦めない女性の真のアイデンティティーと愛することの強さを表現する。